Service and MOT from Foxhill Used Cars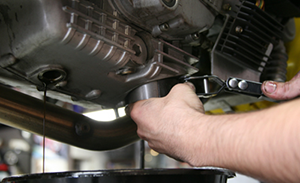 Oil and filter Change
For more information on oil and filter change click the button
From £35.00 incl VAT
Service & MOT
At Foxhill Used Cars we have a fully equipped modern garage that can cater for any need you may have, whether that be just a simple change of tyres or a full engine rebuild we are able to help.
Servicing is available to all makes & models - diesel and petrol, using only the latest technology and only using OE quality parts.
Our professionally trained expert fitters are very experienced with all makes & models.
And we won't do any service work or any repair without getting your agreement first.
Car Servicing Made Simple
Choose the car service you want by calling us, or emailing us.
Collection can be arranged from home or work.
No additional work is carried out without you the customer agreeing to it, making sure you are aware at all times of any extra work needed and the cost involved.
Once all the work has been completed your vehicle can then be returned to your home or work depending on what is easiest for you.
Warranty Protected
Government legislation passed in 2003 called "Block Exemption" means that an independent garage can now carry out your car service, so that the warranty is still protected - this now means you no longer need to use a main dealer to do your car service.
At Foxhill Used Cars we use genuine car parts of OE (Original Equipment) standard, making sure your warranty is protected at all times.
Valeting Service
Our fully trained valeting team are renouned for their excellent and great value for money valeting service. We Supply:
Mini valets
Full Valets
Alloy wheel refurbishment
Engine bay steam clean
Machine polishing to bring back the showroom shine
Interior valets and repairs.
Our Mini Valets start from £15, and Full Valets start from just £45, if you have any specific requirements please call us.
We can supply FREE local collection and delivery of your vehicle.
Contact Foxhill Used Cars
So why not book your next Service, MOT or Valet with us from the comfort of your own home using the links on the right.
If you require something that isn't mentioned above please dont hesitate to contact us and we will do our best to cater for YOUR needs.
We can offer:
FREE Estimates
FREE Local collection & drop off
FREE Advice
FREE Pre MOT checks
All makes and models servicing
MOT certified
Clutch specialists
Exhausts fitted
Fault finding
Vehicle diagnostics
Vehicle recovery service
And much more please call us if you have a specific requirement...
Contact Details
Foxhill Road
Sheffield
South Yorkshire
S6 1HD

Telephone: 01142 310 384 Alternative: 01142 314 509
Mobile: 07525 141 946

Email: Click Here to Email Us
Opening Times
Showroom Opening Times
We are open 7 Days a week
Mon - Fri
9:00 am
to
5:00 pm
Saturday
9:00 am
to
2:00 pm
Sunday
By appointment
Telephone Enquiries
9:00am - 8:00pm 7 days a week
Appointments can be made outside normal showroom hours if required. Please call to arrange in advance.